We Are Currently Teaching At Least One Webinar a Month
Next webinars:
Class Content:
This wonderful class will teach students to use a specific synovial fluid rhythm and the body's inherent articulation rhythm to release restrictions specific to all body articulations, including "fused" embryological articulations.
This class, previously called LAFR/RAFT, has been successfully taught for over 10 years in the lymph curriculum and has no prerequisite.
Learn how to release joints in the body in a non-invasive manner.

Learn articulation fluid release techniques for:
- Peripheral (appendicular) articulations: upper extremity from acromioclavicular joint and clavicle to the hand articulations - embryological structures
- Two types of rib cage articulations – sternum and embryological structures
- Spine: cervical, thoracic, lumbar, sacral and coccyx – intervertebral, facets (zygapophyseal) and embryological articulations
These techniques use fluid and are gentle and can be applied with ease and great success to babies, elderly and even animal.
When the bony framework is out of place numerous types of pathologies can happen, from pain and dysfunction, discomfort, asymmetry/misalignment, range of motion abnormality, tissue/tone changes, affecting the muscles, fascia, viscera or bones themselves.
A wide range of pathologies can be associated with joint dysfunction, and may be alleviated by these techniques, including:
Musculoskeletal pain in general
Neck pain
Some headache, dizziness or vertigo
Joint pain such as shoulder pain, elbow pain, wrist pain, etc.
Carpal tunnel syndrome
Treatment of accidents and injuries, including some whiplash
Work injuries
Sport injuries
Repetitive stress injury (RSI), joint or muscle overuse
Arthritis, rheumatoid arthritis
Some gastrointestinal disorders (somato-visceral reflex)
Some nerve entrapment
Stress, general vitality and well being
Embryological articulations assessed and released during FAR-U classes:
Metopic suture
Symphysis menti
Vertical sternal bars
Sternebrae
Posterior neural arch of vertebrae, centrum and other articulations
Diaphysis / epiphysis of extremities
These techniques use fluid and are non invasive and can be applied with ease and great success to babies, elderly and even animal.
Find Class in North America
Register with us
If you have never taken a Chikly Lymph Drainage Therapy (LDT), Brain Therapy, or Heart Centered Therapy (HCT) class please complete the form below to create a new account.
A Devoted Organization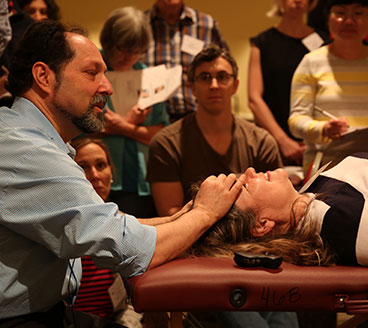 An Organization Devoted to Education, Research & Therapeutic Excellence The Chikly Health Institute (CHI) is an organization devoted to education, research and therapeutic excellence. The Chikly Health Institute offers cutting-edge courses to healthcare professionals around the world. These modalities are non invasive and effective in treating a full spectrum of physical and emotional conditions. We are committed to passion in education and excellence in the content and quality of our classes. Through the hearts and hands of highly trained, caring practitioners, our goal is to attain and sustain a high quality of health within our communities.
Read More
Bruno Chikly, MD, DO, LMT & Alaya Chikly, BA, LMT
Bruno Chikly, MD (France), DO (France, It., UK), LMT (AZ), is the director of the Lymph Drainage Therapy (LDT) and Brain Therapy curriculi.

He is a graduate of the Medical School at Saint Antoine Hospital in France, where his internship in general medicine included training in endocrinology, surgery, neurology and psychiatry. Dr. Chikly also earned the United States equivalent of a master's degree in psychology from Paris XIII University, France.
Read More