We Are Currently Teaching At Least One Webinar a Month
Future Webinars:
LFPVS Class Content:
This workshop will help deepen your skills with lymph and fascia techniques.
It explores the central control of lymphangions (lymphatic vessels contractile units) contractions: the neuro-lymphatic system.
This class will present a new model to work with the body using the central control of the lymphatic system: NeuroFascia Lymphatic Technique.
It offers amazing hands-on techniques to effectively find dominant restrictions in the body using lymphatics techniques independently, using fascia techniques independently, and using lymphatics and fascia combined.
It presents an introduction to the Primo-Vascular Fluid System (PVS), theory and practice.
CLICK ON THE LINK BELOW TO SEE MORE.:
Lymph, Fascia and Primo-Vascular System (LFPVS-O) Sun. Jan 24th - Tue. Jan 26th, 2021 - Online Webinar
Class Pre-requisite: LDT1
Continuing Education (CE): 18 CEUs from NCBTMB
In this class, my intention is to hold the space for us to each awaken and step into the Universal continuum that we are naturally a part of.

We will:
Recognize that our parents are a perfect mirror of that which we have not accepted in ourselves.
Heal the hidden, unconscious conflict of the feminine-masculine relationship within us.
Transform our own inner male-female relationship and recreate our relationships to the men and women in our lives.
Recognize and change the foundational programs set in place at conception and during initial cell division using sacred geometry.
Using holographic vision, become aware of and heal the unconscious patterns that we have perpetuated and relived unknowingly.
Unplug from our negative judgement of ourselves and others and tap into the Universal Continuum of life.
Help heal personal and the Planetary Consciousness.
To see more click here: Heart Centered Therapy Holographic Relationships (HCT-H-O)
Class Pre-requisite: HCT1
Continuing Education (CE): 18 CEUs from NCBTMB
Heart Centered Therapy (HCT) is a gift of the heart, a sacred journey within.
Heart Centered Therapy level 1 (HCT1) - Touching from the Heart - is a profound 4-day class that teaches techniques that are guided by the wisdom of the heart.
The heart naturally knows how to heal our bodies, our consciousness and dissolve beliefs that may have held us in pain, confusion and/or separation.
HCT offers deep healing without reliving the trauma as we are held in the safety, love and compassion of the heart. When we are able to stop identifying with who we are not, we are free to discover who we truly are.

We not only work in the present moment, but also access the original trauma where negative decisions and beliefs were formulated. Step-by-step guidelines help us to gently identify and transform the emotional component of disease in the body, the related trauma, as well as the ancestral patterns that have sustained wounding within the immediate family and the family lineage. Inside this gentle and respectful process is a very direct, straightforward approach that pierces straight to the core of an issue.
This class is offered to both professionals and lay people. It gives families the tools to heal relationships and deepen intimacy and communication. People come because they want to heal, to be free, to love again, and to be loved. HCT is an experience that restores hope.
The depths of the work cannot be met until the heart is awakened.
The heart is the key, the access point for the journey to begin.
Please join us on this sacred journey.
Class Pre-requisite: none
Continuing Education (CE): 24 CEUs from NCBTMB
Find a Class in North America
Register with us
If you have never taken a Chikly Lymph Drainage Therapy (LDT), Brain Therapy, or Heart Centered Therapy (HCT) class please complete the form below to create a new account.
A Devoted Organization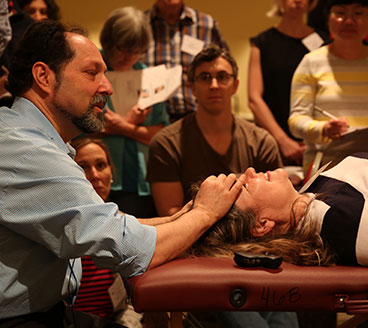 An Organization Devoted to Education, Research & Therapeutic Excellence The Chikly Health Institute (CHI) is an organization devoted to education, research and therapeutic excellence. The Chikly Health Institute offers cutting-edge courses to healthcare professionals around the world. These modalities are non invasive and effective in treating a full spectrum of physical and emotional conditions. We are committed to passion in education and excellence in the content and quality of our classes. Through the hearts and hands of highly trained, caring practitioners, our goal is to attain and sustain a high quality of health within our communities.
Read More
Bruno Chikly, MD, DO, LMT & Alaya Chikly, BA, LMT
Bruno Chikly, MD (France), DO (France, It., UK), LMT (AZ), is the director of the Lymph Drainage Therapy (LDT) and Brain Therapy curriculi.

He is a graduate of the Medical School at Saint Antoine Hospital in France, where his internship in general medicine included training in endocrinology, surgery, neurology and psychiatry. Dr. Chikly also earned the United States equivalent of a master's degree in psychology from Paris XIII University, France.
Read More