We Are Currently Teaching At Least One Webinar Every other Month
Future Webinars:
Heart Centered Therapy 1 (HCT1): Touching from the Heart - Assume Only Love
Heart Centered Therapy (HCT) is a gift of the heart, a sacred journey within.
HCT1 is a profound 3-day online class that teaches techniques that are guided by the wisdom of the heart.
The heart naturally knows how to heal our bodies and our consciousness and dissolve beliefs that may have held us in pain, confusion, and/or separation.
HCT offers deep healing without reliving the trauma as we are held in the safety, love, and compassion of the heart. When we can stop identifying with who we are not, we are free to discover who we truly are.

We not only work in the present moment but also access the original trauma where negative decisions and beliefs were formulated. Step-by-step guidelines help us to gently identify and transform the emotional component of disease in the body, the related trauma, as well as the ancestral patterns that have sustained wounding within the immediate family and the family lineage. Inside this gentle and respectful process is a very direct, straightforward approach that pierces straight to the core of an issue.
This class is offered to both professionals and laypeople. It gives families tools to heal relationships and deepen intimacy and communication. People come because they want to heal, to be free, to love again, and to be loved. HCT is an experience that restores hope.
The depths of the work cannot be met until the heart is awakened.
The heart is the key, the access point for the journey to begin.
Please join us on this sacred journey.
Class Pre-requisite: None
Continuing Education (CE): 18 CEUs from NCBTMB
To see more click here: Heart Centered Therapy Level 1 (HCT1-O): Touching from the Heart - Assume Only Love
VT Online (VT-O): Class Content:
You will be amazed to learn how the tongue and larynx are related to so many structures in the body. You will be surprised just how many of your patients can benefit from these techniques.

Many people suffer from trauma to the larynx/pharynx. It can come from voice overuse, direct trauma, strangulation, surgery, intubation e.g. during general anesthesia, ventilators, chronic laryngitis/bronchitis/mediastinitis, swallowing or breathing conditions, etc.

Tongue-tie or ankyloglossia is a condition described as having a prevalence of 5% in the general population. But because there is no standardized test or approved grading system the number may be much higher.

Many of your adult or child patients/clients can suffer from symptoms that can be alleviated from the tongue-tie protocol including Headaches, neck/shoulder/upper extremity tightness, fatigue, pain/soreness, forward head posture, speech problems, feeding problems, mouth breathing, sleep apnea, teeth grinding (bruxism), crowded teeth, temporomandibular joint (TMJ) dysfunctions, reflux, aerophagia, etc.

Your clients may fail to mention some of these issues as they may have accepted these issues as normal or believe there is nothing they can do about it.

In this online mini-course, you will learn to assess ankyloglossia and to work with the three constrictor muscles, the epiglottis, the hyoid, the cricoid, the thyroid cartilage, the corniculate and arytenoid cartilages, the tracheal rings, the SCM, and the esophagus in a specific protocol.
CLICK ON THE LINK BELOW TO SEE MORE.:
Voice Dysfunctions, Larynx/Pharynx Post-Intubation or Post-Surgical Problems, Tongue-Tie / Ankyloglossia (VT-O) - Online Seminar
Class Pre-requisite: None
CLASS CONTENT:
This class will address retained and reoccurring neonatal and general reflexes in children and adults.
Many children and adults have neurological disorders, learning disabilities, or cognitive challenges. Studies show these individuals often have retained reflexes or may have reoccurring neonatal/primary reflexes. Optimally, these reflexes are inhibited/integrated in the first months of life. Children can keep their primary reflexes for longer than necessary for optimal development. Neonatal reflex inhibition allows for more sophisticated neurological structures to develop.
Adults can see the reoccurrence of these neonatal/developmental reflexes in many pathologies, including trauma, whiplash, PTSD, Parkinson's, stroke, dementia, etc.
Retained and reoccurring reflexes can create numerous neurological dysfunctions, learning disabilities, and sensory integration dysfunctions.
In children, these primary reflexes can be found in learning disabilities, processing disorders / sensory integration dysfunctions, trauma, PTSD, cerebral palsy, ADD/ ADHD, problems with focus and concentration, vestibular integration issues, balance issues, poor postural control, social skills issues, dyslexia, dyscalculia, dysgraphia, dyspraxia / developmental coordination disorders, speech development disorders, speech-language delays, auditory and visual processing, autism spectrum disorders, Down syndrome (trisomy), etc.
There are approximately 28 neonatal reflexes present at birth. We will go over a lot of these reflexes and few permanent reflexes (lifelong reflexes), including Fear Paralysis Reflex (FPR), Moro Reflex, Tendon Guard Reflex (TGR), Palmar Reflex, Tonic Labyrinthine Reflex (TLR) forward and backward, Symmetrical Tonic Neck Reflex (STNR), Asymmetrical Tonic Neck Reflex (ATNR), Spinal Galant Reflex, Perez / Pulgar Marx Reflex / Vollmer Reflexes, Babkin Palmo-Mental Reflex, Hand Pulling Reflex, Crossed extension Reflex, Babinski Reflex, Landau Reflex, Amphibian Reflex, Parachute Reflex, Rooting Reflex, etc.
In this class, you will use quick, specific, and efficient manual therapy techniques to inhibit these primary/infant reflexes. Inhibitory movement patterns will be presented.
To see more click here: Brain Therapy for Neonatal Reflexes & General Reflexes in Adults and Children (BR) - Online seminar November 2021
Class Pre-requisite: Brain 1 - see the form "Application for Exception" in the website.
Continuing Education (CE): 18 CEUs from NCBTMB for MTs and Procert for MTs
CLASS CONTENT:
In this class, you will go over the cervical, thorax, and abdominal regions to learn rarely taught ligaments, organ interfaces, and intraorgan restrictions for numerous viscera. These include the esophagus, trachea, lungs, heart, mediastinum, liver, spleen, stomach, duodenum, small and large intestines, thoracic diaphragm.
Learn fluidic approach to viscera.
Discover an easy way to find a dominant lesion in an area.
Learn how to find intra-organ/intraparenchymatous lesions, ligament lesions, inter-organ lesions.
Release organs using mainly Lympho-Fascia Release (LFR), extracellular fluid techniques (EFT), and other techniques.
To see more click here: LDT Applications to Viscera: Thorax & Abdomen (LDV Th-Abd-O) Online Webinar - Sun. Dec 12th - Tue. Dec 14th, 2021
Class Pre-requisite: LDT1
Continuing Education (CE): 18 CEUs from NCBTMB for MTs and Procert for MTs
Find a Class in North America
Register with us
If you have never taken a Chikly Lymph Drainage Therapy (LDT), Brain Therapy, or Heart Centered Therapy (HCT) class please complete the form below to create a new account.
A Devoted Organization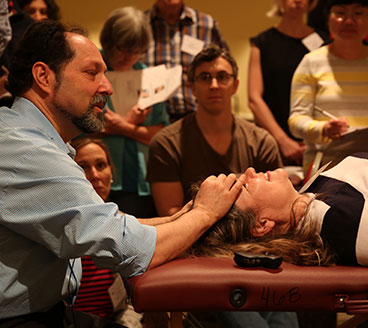 An Organization Devoted to Education, Research & Therapeutic Excellence The Chikly Health Institute (CHI) is an organization devoted to education, research and therapeutic excellence. The Chikly Health Institute offers cutting-edge courses to healthcare professionals around the world. These modalities are non invasive and effective in treating a full spectrum of physical and emotional conditions. We are committed to passion in education and excellence in the content and quality of our classes. Through the hearts and hands of highly trained, caring practitioners, our goal is to attain and sustain a high quality of health within our communities.
Read More
Bruno Chikly, MD, DO, LMT & Alaya Chikly, BA, LMT
Bruno Chikly, MD (France), DO (France, It., UK), LMT (AZ), is the director of the Lymph Drainage Therapy (LDT) and Brain Therapy curriculi.

He is a graduate of the Medical School at Saint Antoine Hospital in France, where his internship in general medicine included training in endocrinology, surgery, neurology and psychiatry. Dr. Chikly also earned the United States equivalent of a master's degree in psychology from Paris XIII University, France.
Read More