DVD (set of 2 DVD): Dissection of the Human Lymphatic System (DDHLS)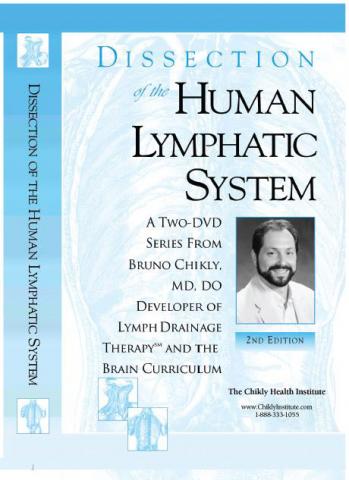 In this two-DVD set, Dr. Bruno Chikly removes the barrier of seeing the lymphatic system. By injecting dye into the lymphatic system of a fresh cadaver, Dr. Chikly traces the flow of lymph throughout the body. In doing so he provides students and practitioners a precise view of this elusive system - from its vastness to the exact locations of major lymph nodes and vessels.
Created by Dr. Bruno Chikly, this is a unique dissection of the human lymphatic system. This is a 2 DVD series of approximately 94 minutes total. It took 4 days to complete this dissection in Paris with fresh cadaver, following lymph vessels from the toes to the neck with special emphasis in the abdomen and breast areas.
DVD 1 presents:
In Dissection of the human lymphatic system Dr. Chikly presents a detailed and explicit evaluation of the specific structures of the lymphatic system. Each structure is carefully labeled with English anatomical terminology. More than 20 specific visceral regions are shown, including the uterus, greater omentum, intestines, root of mesentery, pylorus, cecum, liver, gallbladder, spleen, lungs, heart, thyroid, etc…
- Preparation
- Lower Extremity
- Abdominopelvic cavity
- Upper abdomen and thoracic cavity
DVD 2 presents:
- Upper extremity
- Upper abdomen and mediastinum
- Upper mediastinum and terminal lymphatic pathways

Time: approximately 94 Minutes
FREE SHIPPING WITHIN THE USA
Leg Demo Video Clip
Liver Demo Video Clip