We Are Currently Teaching At Least One Webinar Every other Month
Future Webinars:
VT Online (VT-O): Class Content:
You will be amazed to learn how the tongue and larynx are related to so many structures in the body. You will be surprised just how many of your patients can benefit from these techniques.
Many people suffer from trauma to the larynx/pharynx. It can come from voice overuse, direct trauma, strangulation, surgery, intubation e.g. during general anesthesia, ventilators, etc.
Many of your adult or child patients/clients can suffer from symptoms that can be alleviated from the tongue-tie protocol including headaches, neck/shoulder/upper extremity tightness, fatigue, pain/soreness, forward head posture, speech problems, sleep apnea, teeth grinding (bruxism), crowded teeth, temporomandibular joint (TMJ) dysfunctions, etc.
In this online mini-course, you will learn to assess ankyloglossia and to work with the three constrictor muscles, the epiglottis, the hyoid, the cricoid, the thyroid cartilage, the corniculate and arytenoid cartilages, the tracheal rings, the SCM, and the esophagus in a specific protocol.
To learn more click here: Voice Dysfunctions, Larynx/Pharynx Post-Intubation or Post-Surgical Problems, Tongue-Tie / Ankyloglossia (VT-O) - Online Seminar
CLASS CONTENT:
This class will address retained and reoccurring neonatal and general reflexes in children and adults.
Many children and adults have neurological disorders, learning disabilities, or cognitive challenges. Studies show these individuals often have retained reflexes or may have reoccurring neonatal/primary reflexes. Adults can see the reoccurrence of these neonatal/developmental reflexes in many pathologies, including trauma, whiplash, PTSD, Parkinson's, stroke, dementia, etc.
Retained and reoccurring reflexes can create numerous neurological dysfunctions, learning disabilities, and sensory integration dysfunctions. In children, these primary reflexes can be found in learning disabilities, processing disorders / sensory integration dysfunctions, trauma, PTSD, cerebral palsy, ADD/ ADHD, problems with focus and concentration, vestibular integration issues, balance issues, poor postural control, social skills issues, dyslexia, dyscalculia, dysgraphia, dyspraxia / developmental coordination disorders, speech development disorders, speech-language delays, auditory and visual processing, autism spectrum disorders, Down syndrome (trisomy), etc.
In this class, you will use quick, specific, and efficient manual therapy techniques to inhibit these primary/infant reflexes. Inhibitory movement patterns will be presented.
To learn more click here: Brain Therapy for Neonatal Reflexes & General Reflexes in Adults and Children (BR) - Online seminar November 2021
Class Pre-requisite: Brain 1 - see the form "Application for Exception" in the website.
CLASS CONTENT:
In this class, you will go over the cervical, thorax, and abdominal regions to learn rarely taught ligaments, organ interfaces, and intraorgan restrictions for numerous viscera. These include the esophagus, trachea, lungs, heart, mediastinum, liver, spleen, stomach, duodenum, small and large intestines, thoracic diaphragm.
Learn fluidic approach to viscera.
Discover an easy way to find a dominant lesion in an area.
Learn how to find intra-organ/intraparenchymatous lesions, ligament lesions, inter-organ lesions.
Release organs using mainly Lympho-Fascia Release (LFR), extracellular fluid techniques (EFT), and other techniques.
To learn more click here: LDT Applications to Viscera: Thorax & Abdomen (LDV Th-Abd-O) Online Webinar - Sun. Dec 12th - Tue. Dec 14th, 2021
Class Pre-requisite: LDT1
Find a Class in North America
Register with us
If you have never taken a Chikly Lymph Drainage Therapy (LDT), Brain Therapy, or Heart Centered Therapy (HCT) class please complete the form below to create a new account.
A Devoted Organization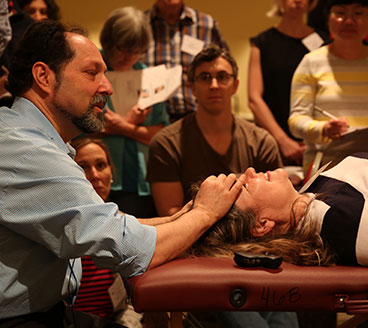 An Organization Devoted to Education, Research & Therapeutic Excellence The Chikly Health Institute (CHI) is an organization devoted to education, research and therapeutic excellence. The Chikly Health Institute offers cutting-edge courses to healthcare professionals around the world. These modalities are non invasive and effective in treating a full spectrum of physical and emotional conditions. We are committed to passion in education and excellence in the content and quality of our classes. Through the hearts and hands of highly trained, caring practitioners, our goal is to attain and sustain a high quality of health within our communities.
Read More
Bruno Chikly, MD, DO, LMT & Alaya Chikly, BA, LMT
Bruno Chikly, MD (France), DO (France, It., UK), LMT (AZ), is the director of the Lymph Drainage Therapy (LDT) and Brain Therapy curriculi.

He is a graduate of the Medical School at Saint Antoine Hospital in France, where his internship in general medicine included training in endocrinology, surgery, neurology and psychiatry. Dr. Chikly also earned the United States equivalent of a master's degree in psychology from Paris XIII University, France.
Read More