We Are Currently Teaching At Least One Webinar a Month
Future Webinars:
B2 Class Content:
This is an exciting advanced class for B1 practitioners:

Learn advanced techniques for the ventricular system, RAS, Internal capsule, thalamus, cerebellar peduncles, release the spinal cord with a fascia and fluid approach, etc.
CLICK ON THE LINK BELOW TO SEE MORE.:
Brain 2: Brain Tissue, Nuclei Fluid & RAS, Cranial Rhythm - Online Seminar
Class Pre-requisite: Brain 1 (B1)
Continuing Education (CE): 18 CEUs from NCBTMB for MTs and Procert for PTs
CLASS CONTENT:
Lab 1: Sacrotuberous, sacrospinous, sacroiliac ligaments, interosseous sacroiliac ligaments.
Lab 2: Iliolumbar and lumbosacral, anterior & posterior coccygeal ligaments.
Lab 3: Inguinal ligament (Poupart's), lacunar ligament (Guimbernat's), pubic ligaments.
Lab 4: Vertebral ligaments - anterior longitudinal ligament, posterior longitudinal ligament, ligamenta flava, interspinous ligament, supraspinous ligament, intertransverse ligament.
Lab 5: Upper cervical spine - lateral atlanto-occipital, transverse ligament of C1, alar and apical ligaments.
Lab 6: Anterior thorax - interclavicular ligament, sternoclavicular ligaments, costoclavicular ligaments, chondrosternal (radiate) ligaments, interchondral membranes / ligaments.
Lab 7: Posterior ribs - anterior costovertebral (radiate) ligaments, costotransverse ligaments, intertransverse ligaments, lumbocostal ligaments (of Henle).
Lab 8: Shoulder - acromioclavicular, coracoclavicular (conoid-trapezoid), coracoacromial, coracohumeral, glenohumeral (capsular) ligaments.
Lab 9: Elbow - annular ligament, radial collateral ("fan externally"), ulnar collateral ("fan internally"), posterior ligaments.
Lab 10: Ligament of Struther's & interosseous membrane.
Lab 11 Hand - distal volar (palmar) & dorsal radio-ulnar, radio-carpal, ulno-carpal intercarpal & carpometacarpal ligaments.
Lab 12: Hand - deep transverse metacarpal ligaments, palmar & dorsal (annular) ligaments of finger, medial & lateral ligaments of finger, cruciform ligaments of finger, palmar & dorsal tendons.
Lab 13: Hip ligaments - iliofemoral (x2), pubofemoral, ischiofemoral.
Lab 14: Knee ligaments/tendons - patellar/quadriceps tendons, medial/lateral collateral, anterior / posterior cruciate.
Lab 15: Knee ligaments – medial/lateral collateral ligament, fabellafibular ligament, arcuate ligament / arcuate popliteal ligament, popliteofibular ligament, oblique popliteal ligament, transverse, coronary, meniscofemoral ligaments.
Lab 16: Ankle & Foot – superior/inferior extensor retinaculum (transverse crural/ cruciate crural), peroneal retinacula, flexor retinaculum, inferior tibiofibular/lateral malleolli, talofibular, calcaneofibular, deltoid ligaments, posterior tibiofibular, posterior talofibular, posterior talocalcaneal ligaments.
Lab 17: Foot - tarsal ligaments, tarsometatarsal ligaments, intermetatarsal ligaments, long/short plantar, palmar & dorsal (annular) ligaments of toes, medial & lateral ligaments of toes, cruciform ligaments of toes, palmar & dorsal tendons.
Lab 18: Mandible – temporomandibular, stylomandibular, sphenomandibular ligaments.
If time:
Lab 19: Larynx - thyrohyoid membrane, cricothyroid membrane, crico-hyroid lateral articulations.
Lab 20: Full body assessment.
To see more click here: Neuro-Embryological Release of Ligaments and Tendons (NER-L) Online Seminar: Fri. May 21st - Sun. May 23rd 2021
Class Pre-requisite: None
Continuing Education (CE): 18 CEUs from NCBTMB for MTs and Procert for MTs
Heart Centered Therapy Diaphragms (HCT-DIA-O): Sacred Diaphragms - Gateways to Self-Knowing
Heart Centered Therapy (HCT) is a gift of the heart, a sacred journey within.
This course will cover the pelvic diaphragm, respiratory diaphragm, intracranial diaphragms (falx cerebri, falx cerebelli, tentorium cerebelli)
Releasing our 3 diaphragms is a very important key to healing the physical-emotional components of disease.
HCT-DIA supports stepping into full presence and safety within our pelvic floor. As we clear unresolved emotion, hidden shame and guilt, we regain trust in our inner-knowing of who we are. Our deepest sense of knowing and wisdom is inherent and natural. Healing the pelvic floor will reveal many hidden keys that can empower us as men and women.
A respiratory diaphragm that is tight and restricted can mirror addressed fear of life and death. Addressing and transforming these unconscious issues can restore full breath, right structural alignment and ignite our trust in life.
The tentorium cerebelli and reciprocal tension membranes of the cranium can also inhibit the cellular and structural ability of our brain and nervous system to access and ignite our Soul light. Healing related trauma can support us to unify with the universal matrix of life.
HCT-DIA prepares us for opening to our pure matrix that aligns us to ourselves and each other.
Please join us on this sacred journey.
Class Pre-requisite: HCT1
Continuing Education (CE): 18 CEUs from NCBTMB
To see more click here: Heart Centered Therapy Diaphragms (HCT-DIA-O): Sacred Diaphragms - Gateways to Self-Knowing
Find a Class in North America
Register with us
If you have never taken a Chikly Lymph Drainage Therapy (LDT), Brain Therapy, or Heart Centered Therapy (HCT) class please complete the form below to create a new account.
A Devoted Organization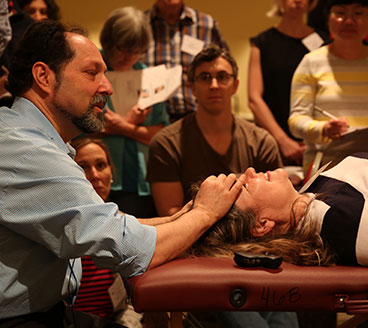 An Organization Devoted to Education, Research & Therapeutic Excellence The Chikly Health Institute (CHI) is an organization devoted to education, research and therapeutic excellence. The Chikly Health Institute offers cutting-edge courses to healthcare professionals around the world. These modalities are non invasive and effective in treating a full spectrum of physical and emotional conditions. We are committed to passion in education and excellence in the content and quality of our classes. Through the hearts and hands of highly trained, caring practitioners, our goal is to attain and sustain a high quality of health within our communities.
Read More
Bruno Chikly, MD, DO, LMT & Alaya Chikly, BA, LMT
Bruno Chikly, MD (France), DO (France, It., UK), LMT (AZ), is the director of the Lymph Drainage Therapy (LDT) and Brain Therapy curriculi.

He is a graduate of the Medical School at Saint Antoine Hospital in France, where his internship in general medicine included training in endocrinology, surgery, neurology and psychiatry. Dr. Chikly also earned the United States equivalent of a master's degree in psychology from Paris XIII University, France.
Read More