B1 Sat. Sep 3rd - Tue. Sep 6th, 2022 - AUSTRALIA - SPONSORED
Class Sponsor Information (Class Registration is only taken by Sponsor)
Local Contact
Cheng Poh Tan
Class Sponsor
Cheng Poh Tan
Sponsor phone
+61 488 192 702
Sponsor Website
www.chiklyinstitute.com
Class Code / Código de Clase
Prerequisites / Prerrequisitos
Class Date / Fecha de Clase
Saturday, Sep 03, 2022 to Tuesday, Sep 06, 2022
Additional Information / información adicional
Class Hours:
Registration: 8:30 a.m. First day
Class: 9:00 a.m. - 5:00 p.m.
Last Day: 8:00 a.m. - 3:30 p.m.
Times are subject to change.
Class Description:
The Brain Therapy Curriculum is an advanced-level course that takes us to the next realm of manual therapy. It explores the brain, spinal cord, white matter, grey matter, and also in this level brain nuclei such as corpus callosum, septum pellucidum, indusium griseum, fornix, thalamus, globus pallidus, amygdala, hippocampus, brainstem, cerebellum, etc.
The body often aligns itself around these precise structures, and they are frequently unaddressed key/dominant tissue restrictions.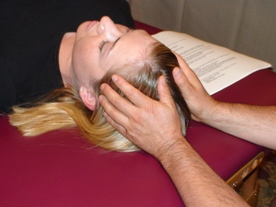 The techniques presented in this class can probably help most of your patients, and they can specifically help pathologies such as closed-head injuries, whiplash, headaches, dyslexia, cerebral palsy, cognitive behavioral dysfunctions, learning disabilities, ADD/ADHD, and Parkinson's and Alzheimer's disease. Students will learn specific techniques to release brain-centered restrictions as well as the damaging effects that these restrictions cause.

Brain 1 is an advanced class that uses a slightly different paradigm by working extensively with the brain parenchyma, grey and white matter, as well as cranial and spinal structures, rather than mainly concentrating on the cranial bones and membranes.
This work requires perceptual skills to be able to address tissue microstructures, and we will have specific exercises in the class to help build up these skills.
Cerebellum
This class will propose different ways to release these structures, and once learned, you will understand how these structures are repeatedly one of the most important, and yet least often addressed components of somatic dysfunctions.

Many topics will be covered in the Brain Therapy classes, in general, including:
1. Cranial bones (intraosseous and interosseous lesions) Claustrum
2. Cranial membranes in all anatomical directions
3. Fluid: 3 distinct compartments

a. Subarachnoid spaces and cerebral cisterns
b. Brain parenchyma and the glymphatic system
c. Ventricles

4. Grey Matter: 3 and 6 layered cortex and brain nuclei
5. White Matter: 3 types of organization
6. Electromagnetic field (EMF) of the brain
7. Emotions, as well as mental or spiritual dimensions.
I know that the normal brain lives, thinks, and moves within its own specific membranous articular mechanism." - Sutherland WG, The Cranial Bowl, Free Press, First Edition, 1939, reprint 1994, pp 51.

Class length 4 days
Conflict of Interest: All classes presented by Chikly Health Institute have no financial conflict of interest.
Please read "Our Policies" for more information: https://chiklyinstitute.com/Policies
Class Country / País de la Clase
Australia
Meeting Place
Hotel Rydges World Square
Room Hordem 2
389 Pitt Street
Sydney NSW Australia
Suggested Sleeping Accommodations
Please contact sponsor for information.